Why Choose Aussie Pest Co For Bee & Wasp Removal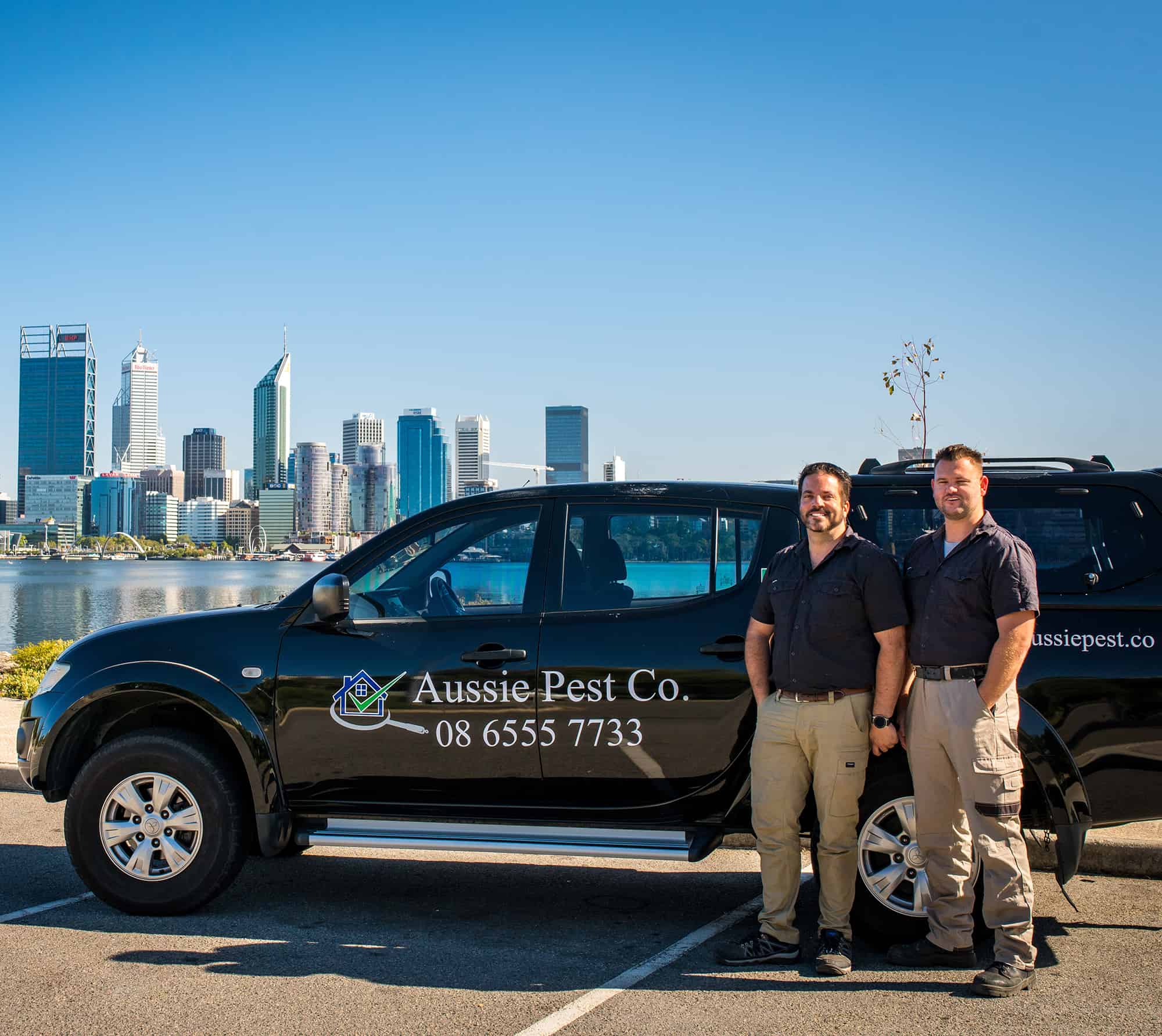 We are dads, we have kids & pets too!
Rid your home of bees and wasps today with Aussie Pest Co!
Identifying Bee or Wasp Nests
Have you spotted more bees than usual buzzing around your property?
If so, they may have built a nest nearby - but the appearance all depends on what type of species. Wasps are known to set up their homes in dark places like roof spaces and wall cavities, with grey nests that look oval-shaped.
Bee colonies however prefer hallowed trees to make their home, with their nests characterised by a yellowish tinge!
Signs You May Need Professional Wasp or Bee Removal Services
In most cases, bees are not a problem. In fact, they can actually be a good thing, as they help to pollinate flowers and plants. However, in some cases, wasps and bees can become a nuisance and that's when you may need to call in the professionals. This includes scenarios where:
Our Process For Wasp or Bee Removal in Perth
If you've never carried out a pest inspection before, here's what you can expect when engaging our team to deal with a bee swarm.
01
Get Your Free Quote For Our Professional Bee Removal Services
In order to offer you the best wasp or bee removal solution for your situation, one of our licensed pest controllers will inspect your property inside and out to ensure that all nests are identified and accounted for. Once the initial inspection is complete, we'll provide a free quote outlining our wasp or bee removal services required, as well as any additional treatments that may be necessary to prevent them from returning.
02
Lock in a date for Bee Pest Control Services
Once you're happy for us to proceed with our pest control services, we'll lock in a time that's convenient for you. We understand that our wasp and bee removal services can be a little disruptive for commercial premises, so we'll work with you to ensure we come at the best possible time.
03
Our Expert Pest Controllers Will Get to Work
On treatment day, our team will arrive at your booked time to get to work. Aussie Pest Co uses environmentally-friendly products to protect you and your family from those nasty bee or wasp stings. We are trained experts in sealing any openings or cracks that may be a gateway for unwanted intruders, as well as removing existing nests completely.
04
Our bee and wasp removal services don't end here
Expect to hear from us again after your appointment. Customer satisfaction is our number one priority. We want to check in with you to see how you are going and confirm that all wasps and bees have been successfully eliminated with our treatment. Plus, did we mention we offer a 3-month no-pest guarantee?
Need a Pest Controller? Call Aussie Pest Co!
You can depend on the team at Aussie Pest Co to keep you and your family safe. We offer a comprehensive range of pest control services across Perth and surrounding areas, including Perth bee removal, termite control, rodent control, and more. Our experienced pest controllers use the latest tools and techniques in order to provide you with peace of mind.
When pest infestations are left unattended for too long, they can quickly become difficult to manage and control, so it's important to act fast. If you can't remember the last time you had a routine pest inspection, it's probably time!
One way to tell the difference between bees and wasps is to look at their colours. Bees are usually yellow and black while wasps are usually white and black. If you can't see the colours, you can tell the difference by their shapes. Bees have a round body while wasps have a thin, cylindrical body.
Carry out regular pest inspections to ensure your property is kept free from any potential nest sites so that we can remove the nest early in a timely manner before any infestations form.
Pest control companies, like Aussie Pest Co, use the latest techniques and products to ensure that all bees or wasps are safely removed from your property. They have access to special equipment and solutions that are only available to licensed professionals. Depending on the extent of the problem and the type of bee or wasp they're dealing with, treatment techniques could consist of anything from repellents, gels, and sprays to manual removal or relocation of nests.
The most commonly found wasps in the Perth area are European Wasps and Yellow Jackets. Bees of various types including Honey Bees, Carpenter Bees, and Bumblebees can also be found in and around the city.
Yes, although these terms are commonly interchanged, there is a difference between the two. A bee hive is an enclosed manmade structure where honey bees are kept. A bee nest, on the other hand, is simply an area where a swarm of bees has gathered to form a temporary home. Bee nests can be found anywhere from trees to bushes to man-made structures like porch roofs.
No, you should always hire a licensed pest controller to safely remove any bee nests you may come across on your property.
Removing a bee's nest can be very dangerous, as bees are known to be aggressive when their nests are disturbed. If you try to remove the nest yourself, you may get stung and could even provoke an allergic reaction. Trust us, removing a nest yourself, is not worth those painful stings!