Residential Pest Control Perth
Looking for dedicated pest control specialists who can exterminate your pest problems and stop these nasty creatures from returning for good? The Aussie Pest Co team can deliver the best protection from any kind of pest infestation regardless of the level of damage the pests have caused and even when they're hiding in the most hard-to-reach places. Termites, rodents, cockroaches, spiders, ants… you name it. If they're there, we'll find them, exterminate and remove them.
Whether you require residential or commercial pest control in Perth, you can expect our products to work year-round to give you peace of mind and protect your property as seasons change and as insects and rodents become more active. The last thing you want is for them to move indoors in search of food and shelter. If you don't treat them in time, they can be bothersome and destructive and therefore can become a serious threat to your home and business.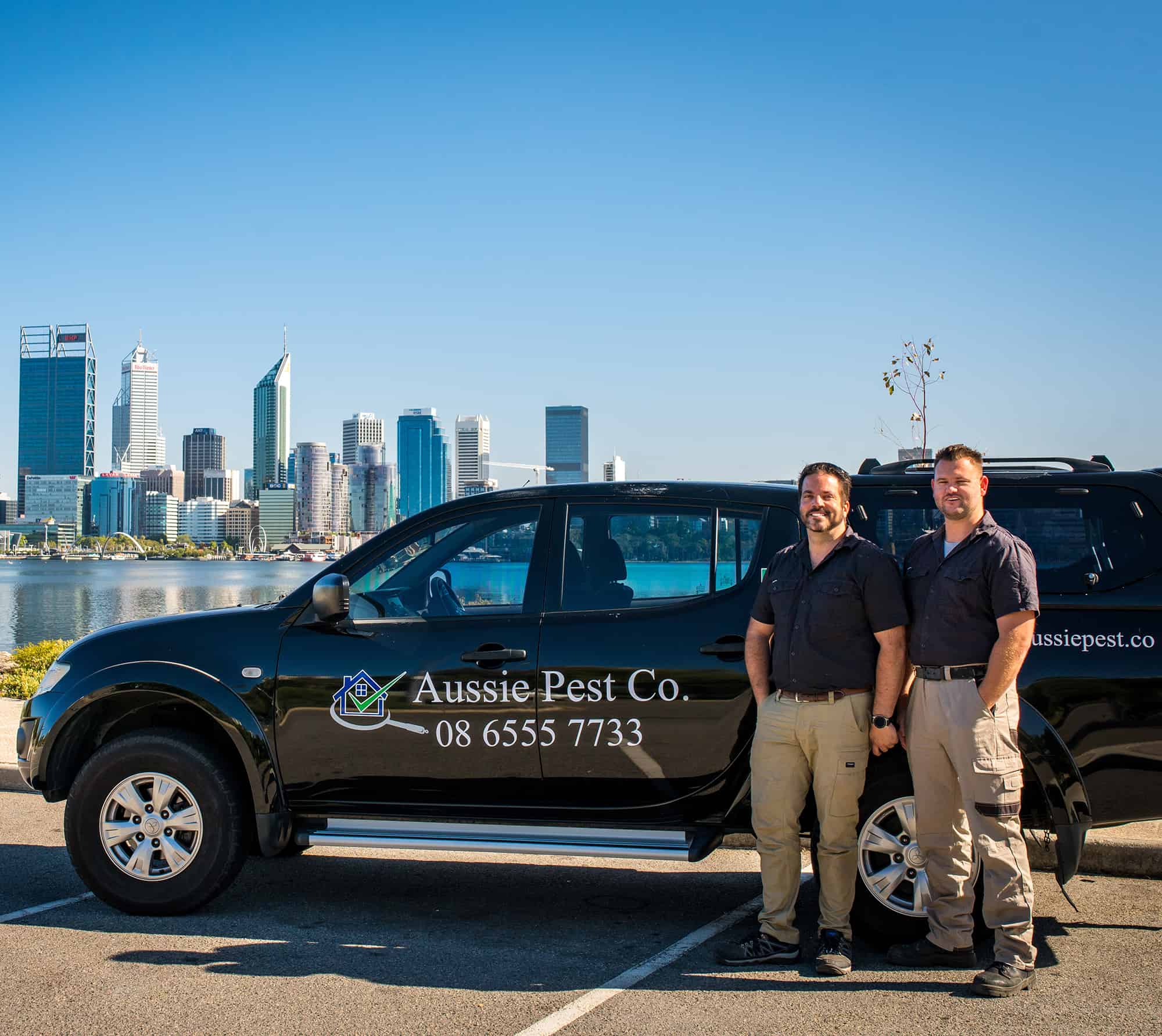 We are dads, we have kids & pets too!
Pests We Commonly Deal With in Perth
Rid your home of pests today with Aussie Pest Co!
Why Choose Aussie Pest Co
You'll find Aussie Pest Co pest control specialists to be knowledgeable in everything pest control and very courteous, approachable and professional in their work. They come to you with up-to-date training and many years of expert experience in getting rid of pests from home or workplaces… guaranteed. They take their job seriously, show up on time & tackle the issue as though your property were their own… going the extra mile to ensure everything is handled to your satisfaction.
Customers have described our team as prompt, patient & caring… Our Technicians make time to answer all questions and use non-technical language to explain the problem, what's attracting pests to the property, what we do to help get rid of the problem, how pests react to the pest control products and how to keep them out.
What to Expect With Your Local Residential Pest Control Service
01
Request Your Free Home Pest Control Quote
So that they can give you an accurate quote and offer the best pest control solutions for your situation, our specialist will first inspect your property from top to bottom and inside and out, making sure to check all critical areas such as the kitchen cabinets, other storage areas and the garage. This way, they can let you know what's going on and predict any potential pest problems.
02
Lock in a Date For Pest Treatment
Once you're happy for us to proceed with the pest treatment, the Aussie Pest Co team will organise a treatment date and time that's convenient for you, so that you get enough time to prepare your property (e.g. move items away from the external walls and from the garage walls).
03
Our Pest Control Experts Will Work Their Magic
On treatment day, we will arrive at your specific booking time… We start by using the safest methods to remove any nests and webs, seal any holes, gaps and cracks to help keep pests out. Next, we treat the property and its immediate surroundings, taking extra precautions to only use products that are safe for you, your family, your pets, your property and the environment. We're fast, friendly and highly efficient, so as not to take too much of your time yet don't compromise on quality. You also get a report of the services rendered and examples of the little things you can do to keep pests from coming back.
04
3 Month No Pest Guarantee
But wait… our service doesn't top here. Expect to hear from us later as we value all our customers and like to check to see how everything is going and confirm that the treatment has eliminated all pest infestations. That's one way we can ensure a 3-month no-pest guarantee. Request a free no-obligation quote today for a pest control service that fits your needs. It's super easy to book an appointment with Aussie Pest Co.
Residential Pest Control FAQs
Pest management costs depend on the size of your house, the type of pest, and the level of infestation. Call (08) 6555 7733 for a free quote tailored to you. Aussie Pest Co also offers pest management packages to ensure your home is fully protected.
Whilst it's likely every Perth home will experience a pest problem every once in a while there are a few prevention measures you can put in place. These include:
Sealing up all cracks and crevices in your home's exterior. This will help to keep pests out.
Regularly sweep and vacuum your floors, as well as wipe down all surfaces, to remove any food or debris that might attract pests.
Keep your trash cans clean and tightly sealed. Trash is a major attractant for pests.
Regularly check the perimeter of your home for any signs of pest infiltration and address immediately if you find any evidence of pests.
Carry out regular pest control services to keep your home pest free.
In most cases, you should have your home inspected for pests by a qualified pest control professional at least once a year. However, if you live in an area that is prone to pests, or if you have a history of pest problems, then you may need to have your home inspected more often.
Absolutely. Aussie Pest Co's team of pest controllers are parents, have pets and put safety above everything else. You can expect industry-leading practices that are safe, environmentally friendly and ensure effective pest management.
Yes. Even if you've never had problems at your home, it's still a good idea to have a pest control inspection done on a regular basis. Pests can be very difficult to get rid of once they've become established. They are also known for spreading disease, posing a serious issue to you and your family's health. It's best to catch them early before they cause costly damage. Finally, just because you can't see a pest, doesn't mean pest infestation is growing.